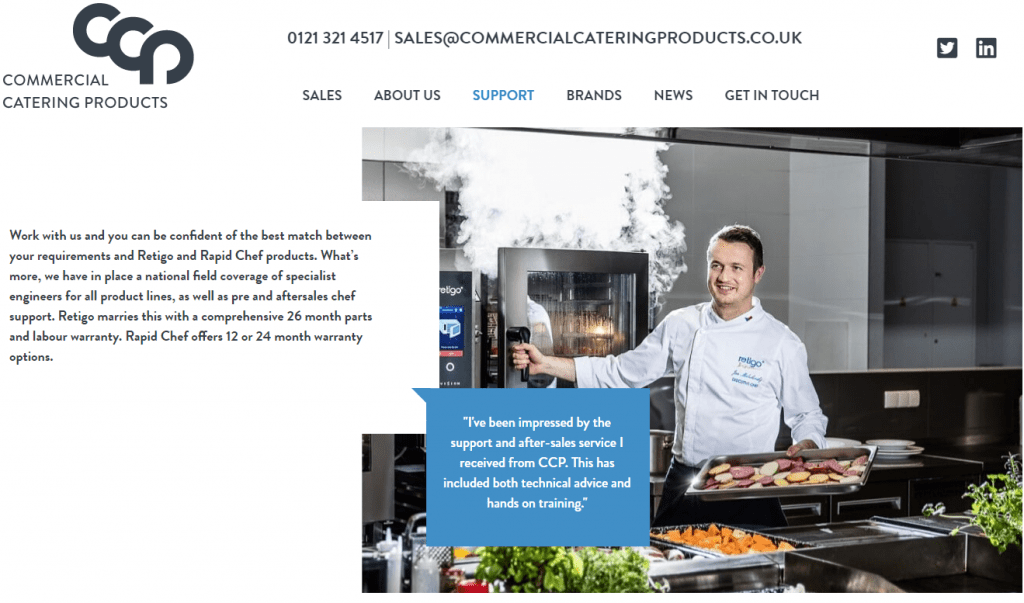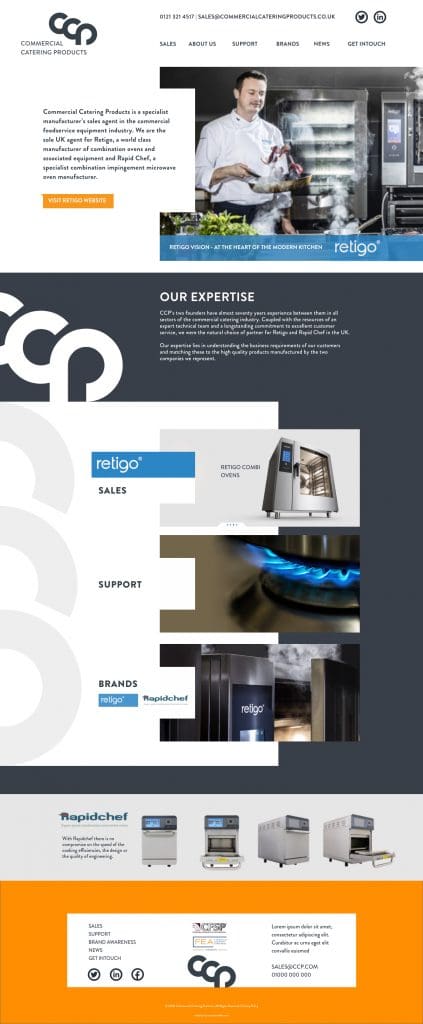 Despite the general shutdown period presenting a range of new challenges to the business, the Covid-19 lockdown has not been a hurdle for us – with a number of new clients wins, business has actually been strong since we moved to remote working in March.
One of our new clients, Commercial Catering Products (CCP), launched their new company into the highly challenging hospitality sector on the 1st July. Given the additional strain this market is experiencing, it was vital for the newly founded company to find an agency that would be able to provide them with striking branding and a website design that set their business apart. In just 6 weeks from the initial brief, we successfully developed their new branding, designed and built their website and completed a full set of digital and printed stationery for the CCP launch date of 1st July.
Simon Callus, a director at CCP, commented: "Creation ADM offer a highly professional, efficient and intuitive service, with an immediate understanding of client needs. When working with Guy, Gary, James and all the team on the CCP web site, I was hugely impressed with their ability to transform our basic brief into a coherent overall offering of the highest standard. I would have no hesitation in recommending this agency for all web-based management and marketing requirements in whatever line of business you may be involved with. Thank you Creation ADM for a job well done!"
Commercial Catering Products' new website can be visited at https://commercialcateringproducts.co.uk/.
With people spending an increased amount of time online, lockdown has prompted numerous business owners to reconsider their online presence and many have approached us for help with creating responsive and mobile-friendly website designs to improve engagement with potential customers. Currently, we're developing three other exciting websites for new clients that have come on board during the lockdown.
We have also found time to work with charitable projects. We've teamed up with Homeless House, an organisation that assists homeless people with support, training and handouts. We volunteered to help develop a website for them that would reflect the charity's already strong brand identity and encourage people to get involved by making donations or participating in fundraising activities. For this valuable contribution, we have been recognised by Manchester Lord Mayor Abid Latif Chohan.
You can find Homeless House's website at https://homelesshouse.co.uk/.
Guy Parker, our Digital Director, said, "we are very fortunate to build on our past successes and to have won a number of new clients in a difficult situation like this. Business has been going very well despite the lockdown, and we have really enjoyed working with both new and existing clients during these challenging times. It's very rewarding to be able to make a positive impact and support such a variety of different organisations. We are in a great position going forward."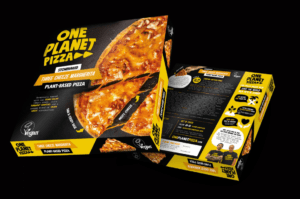 In this, the second blog post in leading Manchester branding agency Creation's series about branding, we explore its importance for any business at a time when competition for both retaining and attracting new customers has never been more fierce. Let's start with the most fundamental of questions:
Read More